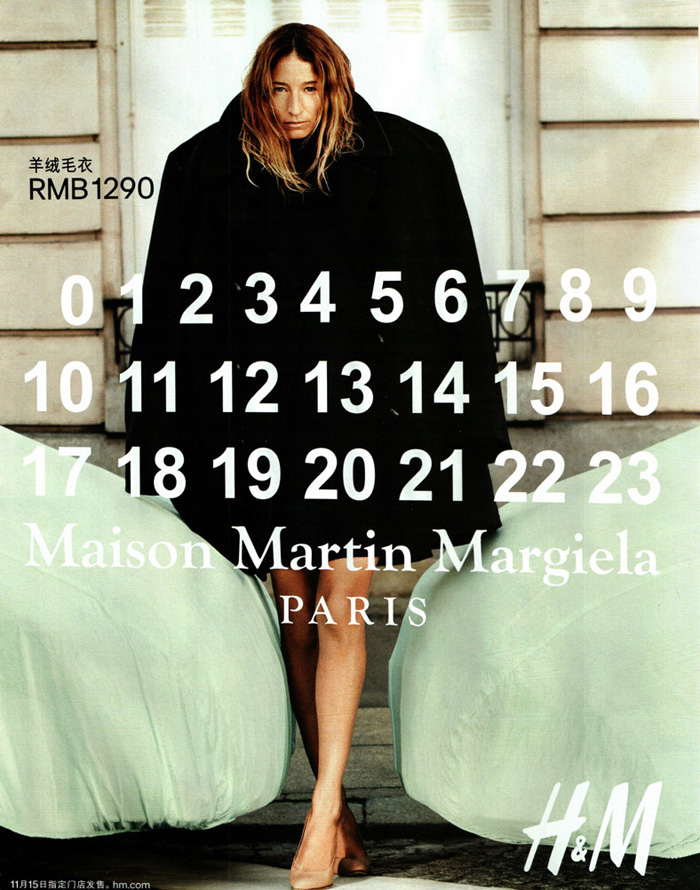 Mañana, por fin, sale a la venta la col·lección de MMM para H&M. Después de toda la expectación que se ha generado estos últimos días en la preventa, sale a la venta la colección, una revisión de sus prendas más icónicas creados a lo largo de los 23 años de carrera de la firma. La campaña ha ido a cargo de Sam Taylor Johnson ambientándose en las calles de París. No cabe duda que hay que ser atrevido para vestir algunos de los looks de Margiela, aunque para mí, los ac
cesorios, son de los más atractivos y originales, pero tambien llevables. Cada prenda a la venta llevará una etiqueta con el nombre de la pieza y el año de edición.
Tomorrow, at last, the MMM for H&M will be launched. After all the expectation created these days by the presales and parties, the collection will be released, a revision of the most iconic garmets created during the 23 years of career of the brand. The campaign has been in charge of Sam Taylor Johnson and setted in the streets of Paris. There's no doubt you have to be brave to wear some of the looks of Margiela, although in my opinion, the accessories are so atractive and original as long as wearable.
Each garment will be sold with a label including the name of the piece and the year of edition.
FOLDED BASE TOTE AW 2009-2010
INVISIBLE WEDGE BOOTS SS 2007
UPSIDE-DOWN BAG SS 2006
CANDY CLUTCH SS 2010
ENLARGED KEY RING
NECKLACE
AW 2010711
Margiela es uno de esos diseñadores que o amas o odias, cual artista dadá, ha jugado siempre a darle la vuelta a las prendas (a veces literalmente), a deconstruirlas, ampliar volúmenes, incorporando efectos trompe l'oeil y reinventando sus formas, revolucionando e reinterprentando la moda en su sentido más creativo. Es un genio sin duda.
En mi opinión, algunas de las creaciones pueden resultar un poco estrafalarias, como el Duvet Coat de la temporada 1999-2000, que para mí es un nórdico-abrigo muy acogedor, pero de formas desproporcionadas, sin duda sello de la Maison francesa. Sin embargo hay algunos looks que tienen mucha personalidad pero saben mantener la elegancia.

Margiela is one of those designers that you love or hate, like if we were talking about a dadá trend artist, has always played to give a turnaround to the clothes (sometimes literally talking), deconstructing them, expanding volumes, incorporing trompe l'oeils effects and reinventing their shapes, revolving and giving in that way another meaning to the creative process of fashion. He is a genious without doubt.
In my opinion, some of the creations, can seem quite quirky, like the Duvet Coat of the 1999-2000 season, which in my opinion it's a cozy duvet in the straight sense, completely out of shape, but obbviously hallmark de la Maison française. Nevertheless, there are some looks with a strong personality which mantain the elegance.


HORIZONTALLY WORN DRESS SS 2005

DARTED SWEATER AW 1990-91